Software and Platforms that support e-mail encryption
Full E-mail clients that support S/MIME
Here you find a short excerpt of S/MIME supporting full E-mail clients

Webmailer that natively support S/MIME
If you use a webmailer you should uses one of the full E-mail clients stated above. But there are some webmailer that natively support S/MIME via the browser:

Algorithms and Trust settings we recommend
Algorithms we recommend
We recommend using a 2048-bit RSA certificate for E-mail signing. The intermediate CA that issued the certificate should at least use SHA-2 256-bit as signing algorithm.

For the signing of E-mails with your E-mail client we recommend using SHA-2 256-bit or higher for siging the actual message.
Excerpt of Certificate Authorities we trust
Accenture
Apple
Allianz
A-Trust
Certum
Chamber of e-commerce
Datev
DigiCert
D-Trust
Energie Control - Austria
enTrust
IdentTrust
GlobalSign
Go Daddy
Hofer / Aldi
Members of European Bridge CA
Microsoft
QuoVadis
SectiGo (formerly Comodo)
Starfield
SuisseSign
Telekom Germany
TÜV Rheinland
Verizon
Voestalpine
WiseKey
My company only issues self-signed S/MIME certificates how can I get trusted?
In this case use the contact at the bottom of the site and we will validate your certification authority and report our trust decisions to you.
Root and Intermediate Certification Authorities we use for our own S/MIME certificates = certificate chain
Root CA - QuoVadis Root CA1 G3
RSA 4096 – SHA256
Valid until: 12/Jan/2042
Serial: 78585f2ead2c194be3370735341328b596d46593
DER/CER format download
PEM format download &nbsp &nbsp &nbsp
Issuing CA - Quo Vadis Swiss Advanced CA G3
RSA 4096 – SHA256
Valid until: 11/Feb/2028
Serial: 41e89ed3562149c894bddb7bdedd7ec569c72490
DER/CER format download
Frequently asked questions
I forgot my password in the Red Bull Webmailer. What should I do?
Please send an E-mail to

and we will reset your password after identity verification.
I regularly use the Red Bull Webmailer on securemail.redbull.com to read encrypted E-mails. Is there an easy way to transfer the message contents to outlook?
Yes - you click on the red arrow and then you can save the mail as .eml and open it directly in your outlook: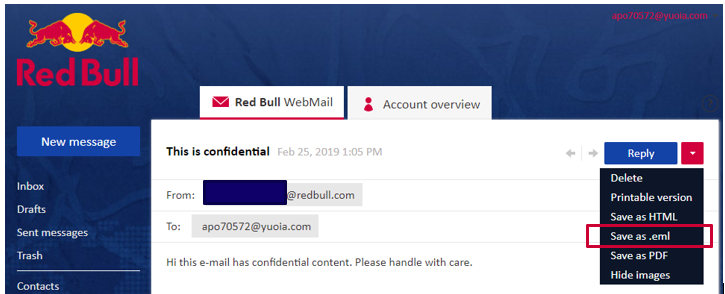 What does happen if I receive a signed mail and my mail / webmail client does not support S/MIME?
The mail will be shown in you webmailer/mail client like any other mail. The identity of the sender (= S/MIME certificate) is added as an .p7b attachment to the mail.
What does happen if I receive a mail that was encrypted with my public certificate on a mail client that does not support S/MIME or does not have access to my certificate?
You can only read the e-mail with the system / mail client where your certificate with private key was installed. Please transfer your certificate (.p12 or PEM file) to the other system and use a supported mail client.
See how Red Bull works with signed & encrypted e-mails
Explore the world behind the can